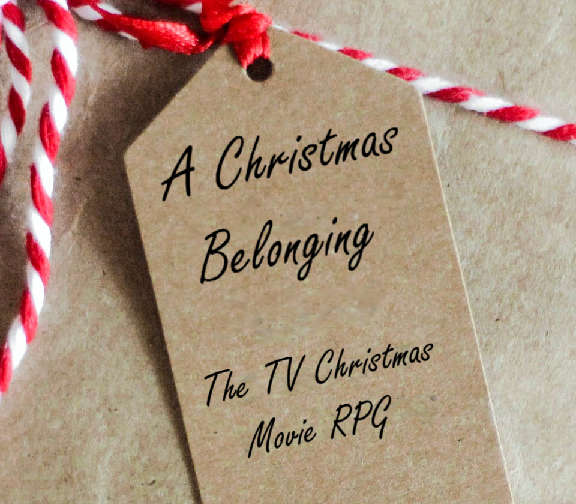 A Christmas Belonging
A Christmas Belonging gives you snow covered landscapes, quaint small towns, and the low stakes high drama experience of a made-for-TV Christmas movie. Recreate those cheerful stories of romance and family drama in this collaborative, zero-prep RPG.

This game is designed for light stories and short term play. You can quickly create characters, put them in dramatic situations, and find their happy ending in just a few hours. Whether you're looking for a game you can play with your non-gamer family, or just looking for a break from world saving adventure tales, this is the game for you!


* No Dice, No Masters - Tell the story you want to tell, with no GM or dice telling you what to do
* Part romantic comedy, part family drama, all holiday spirit!
* Play Christmas movie tropes like the Small Town Hottie, Event Planner, and Secret Royalty!
* Tell a more diverse and nuanced story than usually gets told by Christmas movies!
* Actual, literal supernatural forces!

Also included is The Christmas Switch, a scenario in the vein of holiday classics like The Princess Switch, and The Princess Switch 2: Switched Again. Two people play characters with identical appearances but different backgrounds who agree to exchange lives for some reason!

Also newly added for 2022 is Christmases Here, 10 pre-made towns to help you jump right into the romance and drama!

------

You can listen to how character creation works, and hear about my design process, on the Character Creation Cast!

Episode 1: Discussion and Town Creation
Episode 2: Character Creation
Episode 3: Discussion and fanfiction
Lastly, you have my full permission to make content for this game, and to share any of these documents with your group.

Download
Click download now to get access to the following files:
Christmas Belonging 2.0.3.pdf
7 MB
roles & setting elements text.pdf
94 kB
Christmases Here - 10 Towns for ACB.pdf
2 MB
Christmas gift
Support this game at or above a special price point to receive something exclusive.
A gift from me to you
Get the game! If you want to get me something, a rating or review would be nice. And if you end up playing, let me know how it goes!